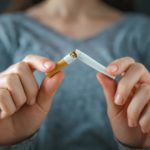 TFCNY works in each of the counties to change the environment in which residents live, learn, work and play, with the goal of motivating tobacco users to quit. While most users quit on their own, for those who want or need help, effective services and treatments are available.
The New York State Smokers' Quitline provides free, confidential services that include information, tools, quit coaching and support in English and Spanish. Provides FREE starter kits of nicotine replacement therapy (NRT) patches to eligible New Yorkers. The Quitline also works with employers, health plans and health care providers to ensure New York tobacco users have access to effective cessation treatments.
To learn more about the NYS Smokers Quitline:
The Surgeon General has declared youth e-cigarette use to be an epidemic. Nicotine addiction is one of the hardest to quit, but teens and young adults have help. Text "DITCHJUUL" to 88709 or visit https://truthinitiative.org/research-resources/quitting-smoking-vaping/quitting-e-cigarettes for more information. Parents or other adults who want to help a young person quit should text "QUIT" to (202) 899-7550.
Other local resources include:
Upstate Smoking Cessation Program
http://www.upstate.edu/hospital/health/healthlink/smokefree.php